Now Christmas season is in full swing! As usual I'm having mixed feelings, but I'm more excited this year than in years past. Usually I'm thinking about everything that I need to do, but at this moment I'm feeling excited about the gifts that I'll be giving even though I haven't started on them yet, lol.
I am IN LOVE with my camera even though I know very little about how to use it. I'm just amazed at how clear the pictures are compared to my point-and-shoot. Anyway even though my father-in-law was making me feel guilty about getting my Christmas early I have no regrets and will happily be taking pictures Christmas morning :) Here are a few of my first and favorite pics of the girls (click on the pic to get the full version. For some reason I've changed the sizes three times and they're still getting chopped. Sorry about that).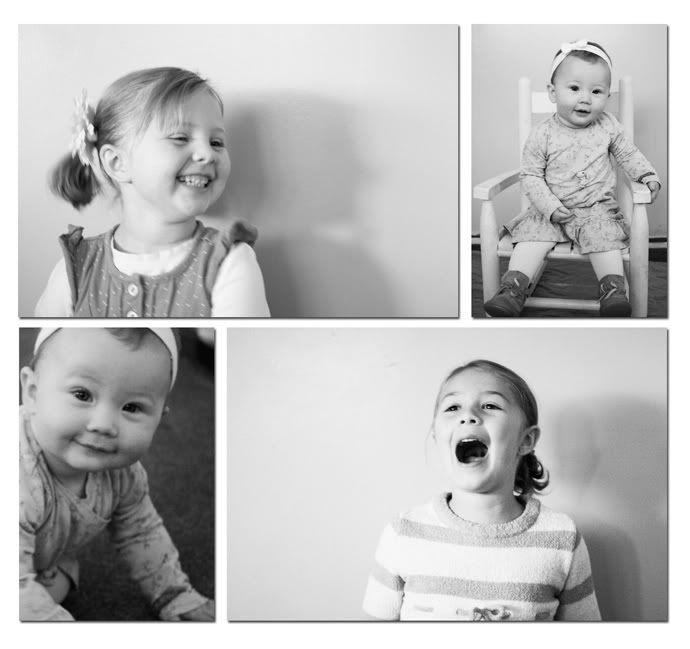 As you can see Grace is in a fun phase of your life where she won't just smile when I whip out the camera :) Last weekend I finally painted the playroom (which is the first room that you walk into when you enter the house). I thought that I was going pretty conservative with the shade of blue that I picked out. After the first coat went up I realized that I hadn't, lol. It's pretty bright and I love it. I don't know that Corey would agree, but it's perfect for a happy place space. Here's a little wall art that I put up the other day.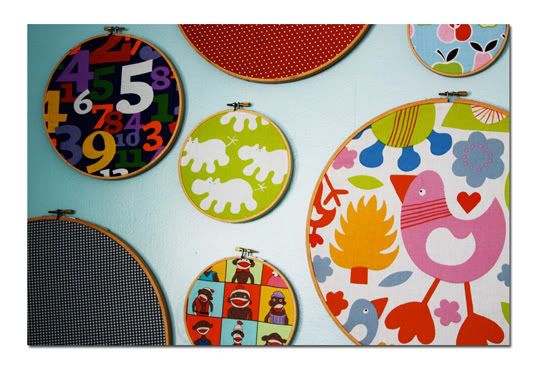 I've found that I have a hard time focusing on one thing for too long. I love to create things and I have a whole list in my head and on my computer of things that I want to try. The other day I started thinking about crocheting. My roommates in college taught me how to first crochet. I made a blanket for my parents and that was the first and last thing that I made. That was about nine years ago so I didn't really remember much. I went to Etsy and found a
cute pattern
. Then I asked a girl in my ward to help me get started. The next day while we drove to my brother's for Thanksgiving I made this:

This is my sweet niece Lizzy modeling it! I made it for Abby, but it was too tight so I'll have to try again with a bigger hook. Last night while I was staying up too late I made this hat for Kate:
Needless to say I'm super excited about crocheting now! I have my eye on a few more patterns
here
and
here
. Oh and aren't
these
so cute?
I hope that everyone had a wonderful Thanksgiving. It's always fun when we get to hang out at my brother's house. The kids get along great, I get some good girl talk time in, and Corey made himself right at home downstairs with the Wii. I put Simon, Isaac, and Grace in charge of making the placecards while we got dinner/lunch going. They really created some cute cards and really took the job seriously. I loved it.
Corey had his first Black Friday sale today at Ogden's. He advertised like crazy in the newspaper and on the radio. The deal was, spend $999 on flooring and get a Wii for $99. There were actually a handful of people lined up when they opened and all the Wiis were long gone by the end of the day. Definitely a success which is great.
Instead of doing any shopping I stayed home and broke out the Christmas stuff! I was surprised at how few things we have. I even went downstairs again to make sure I didn't forget any boxes, lol. That's okay though. I broke out the crafty junk and made a little garland.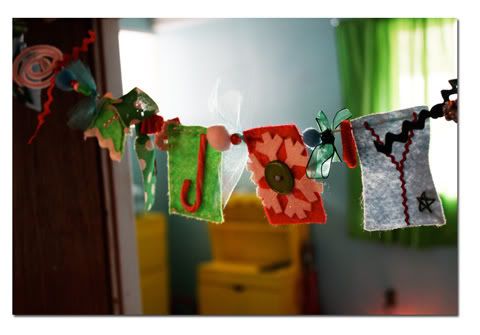 It's been a long time since we've had a little crawler at Christmas time. Today I realized that we won't be able to decorate the bottom of the Christmas tree. Kate is super quick and so interested in anything new. Love it. Here's her starting to help me earlier. Have you have a wonderful and restful weekend!