That November is almost over!!! Wasn't Halloween just last week? Time is really flying which I can't decide if that's a good thing or not. That means that Christmas really is just around the corner. Let's take a step back before I start with Christmas though. I have yet to post about Halloween and I had some pretty cute little girls to hang out with that day.
A few friends and I headed downtown for a little trick-or-treating on Main Street which was fun. That night we had a Brady family party which was a lot of fun. Just throw us all in a room with games and food and we're good to go. I really had no idea what to dress up as so I went with pajamas and curlers (very comfortable I might add). Corey was being pretty grouchy about dressing up and then a few hours before we left he did a complete flip and knew exactly
who he wanted to be
. He even shaved his head for the occasion :)
A few Saturdays ago I finally decided break out the rake. You couldn't even see our grass it was so bad. I didn't realize how big of a job that it would be, lol. I got most of it raked into piles around the house when Kate finally decided that she was not happy outside anymore. So the piles sat for a few days (I had good intentions to finish it up) and one day half of my yard was totally cleared off. A few days later the whole yard was totally leaf free. All I can say is I have some awesome neighbors. Two of my neighbors are retired and it seems always peeking out the window for someone to help. Love it.
It's been two weekends ago now since Chuck and Nicole got married. It really was a fun day and very HOT PINK! The girls looked so cute in their dresses and everyone else looked great in pink, black, and silver. It was pretty chilly, but a beautiful sunny day. Here are a few pics from the day.
They're back from their honeymoon now and opened presents Monday night. It was fun seeing what people gave them. I think I'm going to have to buy one of their many crockpots from them. I think that everyone get's at least one funny gift. Something that someone doesn't want and is re-gifting to you. Corey and I got a glass snowball for a wedding gift. We still have it and have no idea what to do. Chuck and Nicole got some funny swan candle holders. One was even broken.
So since Christmas is coming at an alarming rate I was going to tell you a new tradition that we're going to start this year. This is from the Enrichment night that I mentioned. The idea is to do three gifts. The gift of Meaning (wrapped in red), the gift of Wonder (wrapped in gold), and the gift of Usefulness (wrapped in green). They go along with the gifts from the three wisemen. So the girls will get their Santa gift and then these three gifts from Corey and I. I'm really excited. I've always wanted to figure something out so that I don't go overboard on buying things and I want the girls associate Christmas with Christ more than they do. Here's the idea: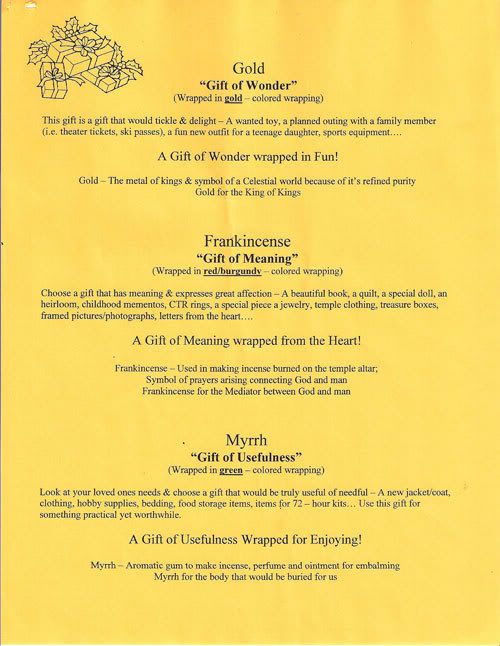 I'm working on some Christ ornaments and also red, green, and gold ornaments to put on the tree that will go along with a few family home evenings that we'll do the few Mondays before Christmas. I'm so excited for Corey's gift of meaning! I'd tell you now, but just incase Corey happens to read my blog for some strange reason I better keep it hush hush for now.
Speaking of Christmas I've been asking for a new camera for probably the last three years. We were in no position to get me a new one, but I always hoped. Well this is the year for me!!!! I order my early Christmas gift the other day and it's on it's way here right now!!
And I'm almost as excited about this:
You just can't have a cool camera without a cute strap :)
Elsie's
class started last week and I've having a great time. There's just so much fun inspiration and I'm trying things that I never have before. Fun stuff. I'll be posting things that I make in my
Flickr
account so if you want to check it out go for it!
Okay, I guess that's all for now. I have Weight Watchers today. Wish me luck.